Hardscaping & Patio Installation
Hardscapes are beautiful stones that are laid out and arranged in a way to create an area for entertaining. Halter Landscaping uses beautiful stones and applications that will provide enjoyment for many years to come.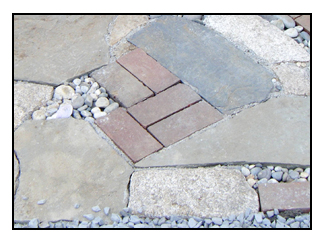 We select stones that match the color of your home or business and add in key features that will make your hardscape area warm and inviting for many years to come. Stones arranged in different shapes and sizes and many interesting patterns can be created with beautiful detail.

Halter Landscaping will visit your home or business and get a general idea of what type of a hardscape you are looking for and how you want the area to be used. We can also recommend stones and blocks to make your landscape enhancement perfect. Additionally if you are looking for accessories such as a fire pit, grill or garden tresses and a retaining wall we have many options that may be of interest to you.
Hardscaping Services provided include:
Walkways
Patios
Retaining Walls

There are many options to beautify and enhance your property. Hardscapes and patios are a great way to create an outdoor living area and will be beneficial and inviting for many years to come. Contact us for more information or to schedule a free estimate.