Walkway Design
Paths do much more than merely provide a route from one place to another. They unify the landscape's design elements and reduce lawn maintenance. A path or network of paths is also a great way to add something new to an existing landscape without disrupting its character.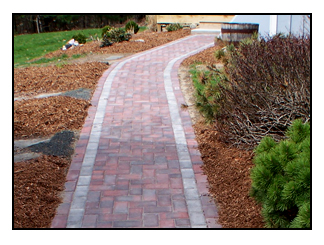 Before you start spreading a network of paths through your yard, consider the first rule of path design: Every path should have a purpose. To determine that purpose, answer these questions first.
How will the path be used? For instance, will it accommodate only foot traffic or will equipment roll over it?
Who will use it?
How frequently will it be used?
How do you know where you need a path? Look for signs in the landscape. A track worn in the grass, for example, shows where traffic naturally flows. You should consider building a sidewalk or path there.
Garden Design
Garden design is the art and process of designing and creating plans for layout and planting of gardens and landscapes. Elements of garden design include the layout of hard landscape, such as paths, walls, water features, sitting areas and decking; as well as the plants themselves, with consideration for their horticultural requirements, their season-to-season appearance, lifespan, growth habit, size, speed of growth, and combinations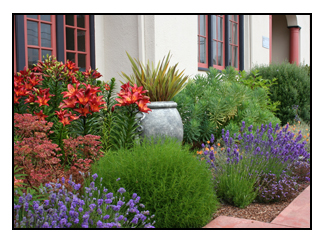 with other plants and landscape features. Consideration is also given to the maintenance needs of the garden, including the time or funds available for regular maintenance, which can affect the choice of plants in terms of speed of growth, spreading or self-seeding of the plants, whether annual or perennial, and bloom-time, and many other characteristics.
Important considerations in garden design include how the garden will be used, the desired stylistic genre (formal or informal, modern or traditional etc.), and the way the garden space will connect to the home or other structures in the surrounding areas. All of these considerations are subject to the limitations of the prescribed budget.

Halter Landscaping can design walkways and gardens that will add curb appeal, interest and functionality. Bring your own ideas or we'll help you to imagine it. Contact us to schedule an appointment for a free estimate or for more information about design services.