Tree/Bush Trimming & Removal
Do you have trees overhanging onto walkways or in the way of lighting? Want to make your entrances and other areas of your yard more inviting and safe? Let us clear out the dead limbs and bring new life to your trees and property! We have a contracted Certified Arborist, and our climber is fully trained in the ANSI standards of tree pruning, trimming, and shaping. We pride ourselves on the ability to work together in team coordination to bring a tree down without damage to your home or landscaping.
The clean-up crews ensure that your property and service area will be neat and tidy throughout the entire job and upon completion. We can haul everything away, or leave the wood for you to split. The estimator will give you several options.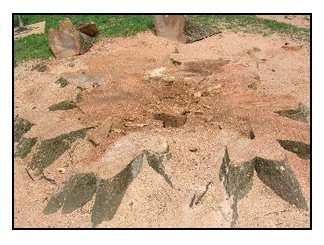 Stump Grinding
Stumps can be not only an eyesore but a hazardous impediment to getting around your property. For the safety of yourself and passersby, grinding down those exposed stumps is an absolute necessity. We can get rid of a few stray stumps with no problem or we can clear an entire area out with our expert excavation services.
Stump removal is performed with a grinding process that is extremely neat and clean. We can remove any size stump in a safe manner. With the equipment we use, we are able to grind stumps as close as six inches from any existing building or even closer to existing sidewalks and driveways.



Request a free estimate or schedule service. Halter Landscaping will always work with you to accommodate your schedule.